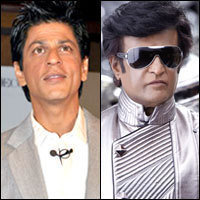 Shah Rukh Khan's much-hyped science-fiction film that has already created a buzz across the world has some special fireworks in store this Diwali. Southern superstar Rajinikanth will play a cameo in the film, directed by Anubhav Sinha.
T...he Tamil superstar is reportedly set to utter some of his blistering dialogues from Basha, one of his biggest hits in Tamil.
Reliable sources tell us that Rajinikanth will soon start shooting for Ra.One in Hyderabad, making it the first ever project featuring the two power houses of Indian cinema. What makes the appearance also special is the fact that this will be the first film where Rajinikanth will be seen after a break of four months, following his illness.
"It will be a delight for the fans of the two legendary stars. Rajini sir will be acting in Ra.One for a scene that is set in his honour," said a source, close to the project.
"It's a real honour to the superstar as he himself will be acting in a scene that is dedicated to him and shows his stardom and greatness as an actor. What is more, he will deliver his super hit dialogue from Basha," adds the source.
ENTRY IN REAL RAJINI STYLE
In the proposed sequence, when SRK combats a group of villains, another team armed with weapons unleashes a surprise attack on him. That's when Rajini makes a dramatic entry in his inimitable style in a car. The weapons (huge blades and swords) the group carries get instantly attracted and glued to his car, sending a shiver down the spine on the rampaging goons.
Surprised for a minute, SRK checks with Kareena Kapoor who this great man is. She describes him as the greatest star. Pin-drop silence follows. That's when Rajinikanth gets out of his vehicle and mouths the super-hit dialogues. The shooting is slated on October 4 at Ramoji Film City in Hyderabad.
Rajinikanth's family, which expressed their happiness on the star's recovery, said he would resume full-fledged shooting only from November. "We had visited him recently. He has recovered. We are happy for his cameo in Shah Rukh Khan's film. He will resume shooting from November," said Satyanarayana Rao Gaekwad, the superstar's elder brother.